I would love to post our vacation pictures, but our internet has been the WORST this week and I haven't been able to upload anything! Working on it though!
Therefore, I'm l
inking up with my girl
Jennie
for...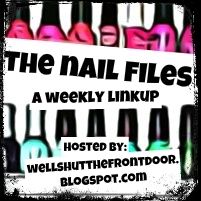 I picked up a couple of amazing glitter polishes on vacation, by
Golden Rose
, and from the first use I've totally fallen in love. The other nails have a Sally Hansen buff polish on them.
Excuse the background - work has better lighting than my house LOL
Close up of the feature nail
The polish:
Carnival #11
They have 26 'shades' of
the Carnival line
and I'm totally going to ask my mom to pick me up some more. Because of course, they sell them absolutely everywhere except for in Canada. Did I mention they cost less than $3CAD? Exactly.
Which ones catch your eye?
Have a great weekend peeps!