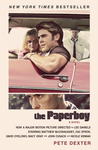 The Paperboy
by
Pete Dexter
My rating:
3 of 5 stars
This is another book I had on my list for a while and had really high hopes for. I loved the story line of investigative journalism with a murder (don't worry - that's not a spoiler) because who doesn't love a good murder mystery?! The story was great and I enjoyed 75% of it, even though I occasionally wondered where it was going.
Then the last 25% (or maybe less) rolled around and totally threw me for a WTF loop. It's also possible that I just got too invested in the characters and wanted a specific outcome for them that I just didn't get. I'm super interested to see how they adapted the book to the movie. And excited to stare at Zac Efron...heehee.
Thanks to Heather & Katie for hosting!