Linking up with my girl
Jennie
for...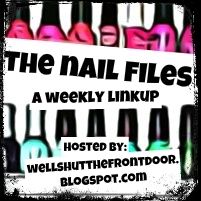 This week I specifically did my nails in support of Jennie seeing as she's the new host of this linkup & all. It's not that I don't always enjoy painted nails, but I just never have the time!
I remembered this polish being more coral and less red but I may be getting confused with the my Sally Henson version - 'cause you know, I have almost the same colour in multiple brands.
And then I was impatient and made a boo boo so used the sparkles to cover it up. Honestly, I love the sparkly thumb for some reason - potentially moreso than the ring finger accent! *gasp*
Can't wait to check out all the linked up manicures!