It's that day of the week again...Hump Day! Oh and Wednesday, which means time to link up with The Vintage Apple!
This week I'm featuring an awesome DIY fashion project!
A few weeks ago I found this on Pinterest & became OBSESSED with trying to make one myself.
There are actually a ton of blogs/sites & videos you can use to learn/experiment with this
So last weekend I did just that!
Here's my finished shirt: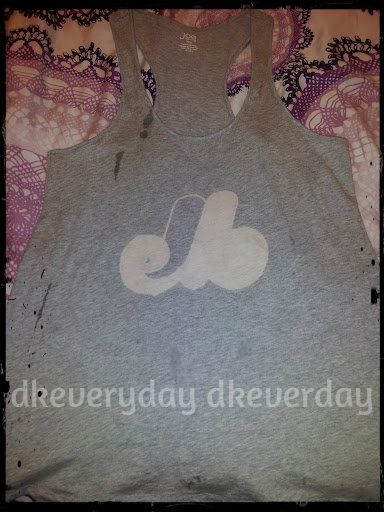 Excuse the wet spots, I had just steamed it!
I'm so so happy with the way it turned out! It's just coincidence that the cheapest top I found (for my 1st experiment) was the same colour as the example, you can use whatever colours/shirts (or scarves!) you want. It's super easy, just takes a bit of patience.
In case you are wondering, that is the [old]
Montreal
Expos
logo as prep for our trip to Montreal this summer :) I'm definitely planning on making some more!
Has anyone tried this or thinking of trying it?!