Don't know about you, but I feel this way more and more as time passes. I guess I didn't quite appreciate them since I was never one to hate school, so long weekends didn't hold the same meaning that more days to relax do now. Boy are they necessary!
For the first half of the weekend, I went home to hang out with the fam since I also didn't get to see my mom on Mother's Day
last weekend
. It was great to just relax and spend some time together, away from my daily routines.
I made my mom a bleached T as her gift :)
We made delicious California Rolls for dinner
And...I couldn't resist wearing my prom dress for a bit...again [it's been 8 years]
Despite the good times, I can only spend so much time away from
the city
before
suburbia
starts to suffocate me. When I got back, dC & I went out for our first round of golf of the year. As much as I complained about the 8:16am (on my day off) tee-time, I'm glad we did it - I was getting hot & sweaty by 9am!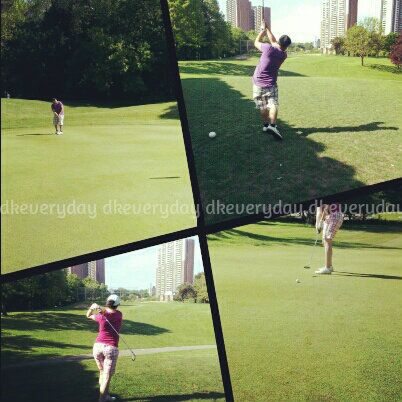 I only shot 45 over par. Sounds worse than it was, some of those holes were tricky!
On Monday we also celebrated our non-date anniversary - the time last year when we were both in denial that our first hangout was
clearly
a date. Clear to everyone but us apparently LOL
Busted out my new peep-toe flats I bought last weekend (with my yellow toesies)
Delicious drinks & apps at Moxie's for our date night
Went to see Avengers in 3D - so fun!
Our one year anniversary is coming up next month & we're taking a trip (so pumped!) but we thought this was monumental enough (and a good excuse!) to celebrate!
LOVE YOU BABE!
Look at us - must be why our Moxie's server thought we were cool enough to deserve a free dessert ;)
Cheers to next weekend!