Last weekend was epic. I had actually forgotten just how good a weekend can be. Probably because I've been caught up with worrying about little things that either don't matter or are out of my control.
After a relaxing Friday night in, I started off my Saturday going to brunch with a friend who was in town from out west. N & I met while we were both on exchange in Germany at the same university & being the only 2 Canadian girls we got pretty close. We cooked up a storm when we hosted a Canadian Thanksgiving dinner and shared
plenty
of bottles of wine :)
Brunch was awesome & we decided that neither of us have changed. It was so nice to see her [and meet her new hubby] to reminisce and re-live some of the good times. I do realize how cheesy that sounds.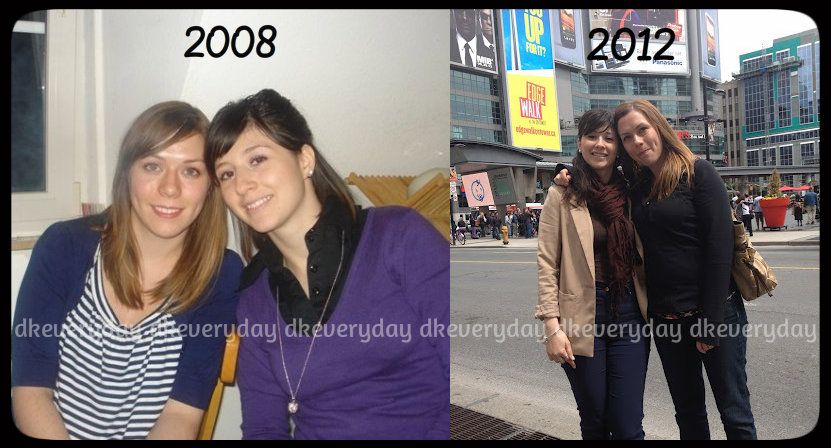 After brunch I rushed off to join dC for his goddaughter's Little Miss pageant. I've never been a fan of pageants , and Toddlers & Tiaras hasn't helped their case, but she was so cute & so good! Some of the girls were definitely WAY over the top - it felt like the one's entire neighbourhood came out with signs - so we cheered haaaaaaaaaaard. Because we're supportive like that. Finals aren't until next month though so I guess we'll find out if our cheering was enough then... :)
Didn't want to exploit the little divas so you get a pic of us taking a break from cheering :)
After that we did some shopping & I did some modelling...
What do you think, new career...?
Then Saturday night we decided that we were too awesome to just stay in and be lame so we decided to go to a club. Just the two of us. And it was glorious! Honestly, it was just what we needed & the night was perfect <3
DJ got us fallin' in love again...
After such a packed Saturday, Sunday was all about relaxing. Took a walk, had some ice cream and people watched at The Beaches. Also, dog-watched. SO MANY cute teacups and I want ALL OF THEM! But I digress...
Can't wait for next weekend, someone special is coming to visit!! :)